At this point, you probably have more reason to delete your Facebook account than to keep it. Sure, it can be fun to keep in touch with friends from your childhood, distant relatives you've met twice, and to casually stalk your exes, but there are also the data privacy issues, the endless scams, and the dangerous misinformation. Not to mention the shady business practices of doing things like allowing politicians to lie in political ads.
You have the option to delete or deactivate your Facebook account. Deactivating is the temporary option, which disables your account, removing your name and photos from most things you've shared. You'll still be able to use Messenger. Deleting your account is permanent. This option gets rid of all the content and information you've shared on Facebook. Your Messenger and all of your messages will also be deleted.
So, if you're ready to delete your Facebook account, or even just deactivate it, follow these instructions.
How to delete or deactivate your Facebook account
Open Facebook from your desktop.
Click the account menu down arrow at the top right of the page.
Tap Settings & Privacy.
Tap Settings.
Click Your Facebook Information in the left column.
Click Deactivation and Deletion.
Choose Deactivate Account or Delete Account
Enter your password.
Confirm your decision.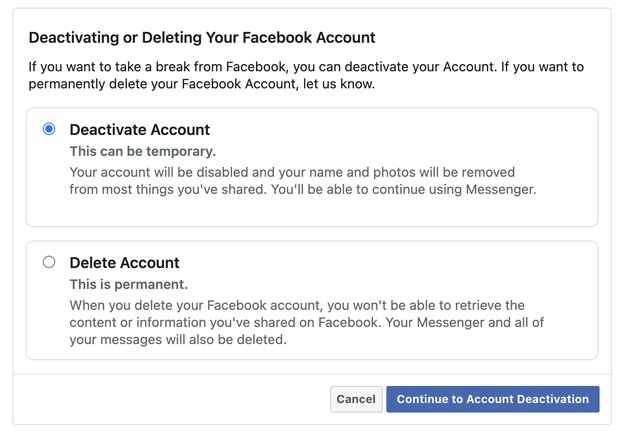 And since Facebook owns Instagram, perhaps deleting your Instagram account is the next step.